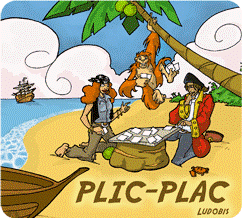 zoom
Reference : PP_Pirates
Plic-Plac Pirates
TradeMark : Plic-Plac
http://www.ludobis.com Jouez à Plic-Plac illustration Pirates!
Un plic-plac, c'est un couple de cartes qui ont soit le même dessin, soit la même couleur, et cela fait des combinaisons dans plusieurs sens... Il vous faut maintenant repérer et empocher un maximum de plic-plac, pour cela, utilisez la mémoire, la stratégie ou la chance... Mais ce n'est pas aussi simple car vos adversaires ont le droit de réagir en coupant. Gare si vous vous trompez, car cela rend votre plic-plac encore plus vulnérable.
Les parties sont courtes, ce qui permet d'y jouer et d'y rejouer plusieurs fois sans se lasser. Les petits peuvent jouer eux aussi, mais soyez indulgents...

Pour 1 à 6 joueurs
De 8 à 888 ans
Durée : 15 minutes environ
Boîte de 40 petites cartes dont 4 spéciales, 1 manuel de jeu
voir le site ludobis pour plus de détails
Plic-Plac Pirates version
A plic-plac is a couple of cards which have the same pattern or the same color. This makes combinations in several ways.
Players have to locate and pocket the maximum of plic-plac.
Other players can react by cutting plic-placs. If a player fails to do a plic-plac, then he gives information to other players and makes its plic-plac vulnerable.
Manual rules in French. Translation in english available.