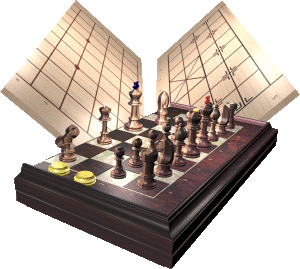 zoom
Reference : EC03
Eurasia-Chess Extra
TradeMark : Eurasia-Chess
http://www.eurasia-chess.com Staunton-like chessmen adaptation for Asian chess

Boite d'échecs Eurasiens complète "3 échecs en 1" (échecs Européen,Chinois et Japonais): pièces d'échecs Eurasia-Chess, rangement, plateau bi-face additionnel (Xiangqi/Shogi).
Ce nouveau concept de remplacer les jetons traditionels en caractères Chinois, par des pièces typées Staunton rend l'apprentissage des échecs asiatiques plus aisé.
Boite d'échecs "Européen" pliable bois/nacre: 53cm x 26.5cm
Plateaux d'échecs en bois, avec chiffres&lettres: 48cmx48cm (cases:5cm)
Pièces bicouleurs en bois: feutrine, lestage magnétique, style Staunton "Oriental"
Roi: hauteur 9.5cm, base 3.8cm
Complete Eurasian chess set "3 chess in 1" (European, Chinese and Japanese chess) : Eurasia-Chess chessmen, arranging part, additional double-sided split board (Xiangqi/Shogi).
This new concept of replacing traditional Chinese characters disks by Staunton-like pieces makes it more easier the learning of Asian chess games.
folding "European" chess box (wood/nacre): 21" x 10.5"
Wooden Chess boards, with numbers and letters: 19" x 19" (2" square)
Wooden bicolor chessmen: felted, magnet-weighted, "Oriental" Staunton style
King: height 3.75", base 1.5"