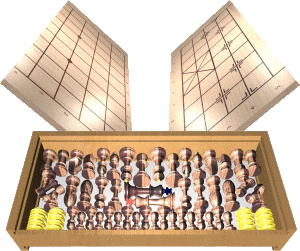 zoom
Reference : EC02
Eurasia-Chess Standard
TradeMark : Eurasia-Chess
http://www.eurasia-chess.com Staunton-like chessmen adaptation for Asian chess

Découvrez les échecs Asiatiques ! Pièces d'échecs Eurasia-Chess + plateau bi-face Xiangqi/Shogi (échecs Chinois et Japonais), boite de rangement.
Ce nouveau concept de remplacer les jetons traditionels en caractères Chinois, par des pièces typées Staunton rend l'apprentissage des échecs asiatiques plus aisé.
Plateaux d'échecs en bois, avec chiffres&lettres: 48cmx48cm (cases:5cm)
Pièces bi-couleurs en bois: feutrine, lestage magnétique, vernis, style Staunton "Oriental"
Roi: hauteur 9.5cm, base 3.8cm
Boite de rangement: 52cm x 26cm
Vous aurez besoin de posséder un plateau "classique" (45cm-50cm, cases 5cm), afin de jouer aux échecs Européens...
Discover Asian chess ! Eurasia-Chess wooden chessmen + double-sided split chessboard Xiangqi/Shogi (Chinese and Japanese chess), arranging box.
This new concept of replacing traditional Chinese characters disks by Staunton-like pieces makes it more easier the learning of Asian chess games.
Wooden Chess boards, with numbers and letters: 19" x 19" (2" squares)
Wooden bicolor chessmen: felted, magnet-weighted, vernis, "Oriental" Staunton style
King: height 3.75", base 1.5"
Arranging box: 20.5" x 10"
You'll need to get a regular chessboard (18"-20", 2" square), in order to play European chess...