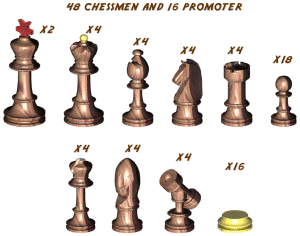 zoom
Reference : EC01
Pièces Eurasia-Chess (chessmen)
http://www.eurasia-chess.com Staunton-like chessmen adaptation for Asian chess

Pièces d'échecs Eurasia-Chess utilisées pour jouer aux échecs Européens, Chinois(Xiangqi) et Japonais (Shogi). Ce nouveau concept de remplacer les jetons traditionels en caractères Chinois, par des pièces typées Staunton rend l'apprentissage des échecs asiatiques plus aisé.
Pièces bi-couleurs en bois: feutrine, lestage magnétique, vernis, style Staunton "Oriental"
Roi: hauteur 9.5cm, base 3.8cm
Pièces adaptées à un plateaux d'échecs de 45-50cm(cases:5cm)
Livré sans plateaux de Jeux d'échecs
Eurasia-Chess wooden chessmen for use in following chess: European, Chinese(Xiangqi) and Japanese(Shogi). This new concept of replacing traditional Chinese characters disks by Staunton-like pieces makes it more easier the learning of Asian chess games.
Wooden bicolor chessmen: felted, magnet-weighted, vernis, "Oriental" Staunton style
King: height 3.75", base 1.5"
Pieces are well fited to 18"-20" chessboards (2" square)
Delivered without any Chess board...